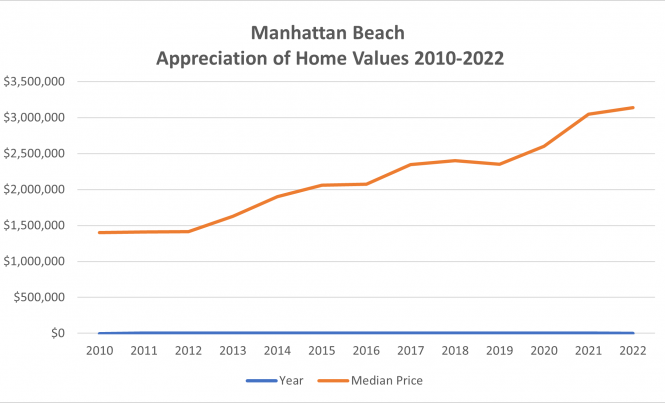 Manhattan Beach and Hermosa Beach  are highly desirable cities to live in. We have beautiful beaches, upscale neighborhoods, high-quality schools, and  great communites.
In the years leading up to 2022, the Real Estate Market in Manhattan and Hermosa have experienced significant growth. Prices were driven up by factors such as limited inventory, high demand, and the cities desirability.
Since 2010, real estate prices in both cities showed a steady upward trend, with home prices increasing 124% since 2010!
A factor that currently seems to be putting people off buying a home in this market isn't necessarily their faith in the potential growth for this market, but mortgage rates.
There's a saying. Marry the House, but Date the Rate.  The current mortgage rate environment is not forever. Mortgage rates will likely drop three quarters to a full percentage point in the next 9-12 months.  If you find a property you love now, you can refinance later when rates go down.
Give me a call so we can discuss what your best options are for buying a home in Manhattan Beach or Hermosa and what the next few years look like in terms of home prices.